Transfer references between EndNote libraries
There are several methods you can use to transfer references from one EndNote library to another. Here two of them are presented; one that is suitable if there is only a small selection of references to be transferred, and another method that is most suitable if all the references in one library are to be transferred to another.
Transfer of individual references:
Open both EndNote libraries – both the one to be copied from and the one to be copied to.

Select the reference(s) to be copied / moved (hold down the «Ctrl» key to select multiple at once)

Drag the reference(s) to the other EndNote library and drop them in place.
Of course, regular copying works just fine too.
Transfer all references in a library:
Open the EndNote library you want the new references copied to

Select the «Import» function from the «File» menu

Browse to the EndNote library you want to retrieve references from

Under «Import Options», select «EndNote Library»

Select «Discard Duplicates» under «Duplicates»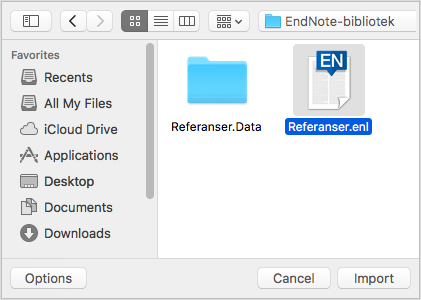 Note that this procedure does not copy duplicates (ie references that exist in the EndNote library before). If all references are requested anyway, «Duplicates» can be set to «Import All».